Winston-Salem, N.C. —The Wake Forest University (WFU) Football Schedule Poster designed by Wildfire, a Winston-Salem-based integrated marketing communications firm, was ranked number 2 in Bleacher Report's list of The Top 50 Team Schedule Posters.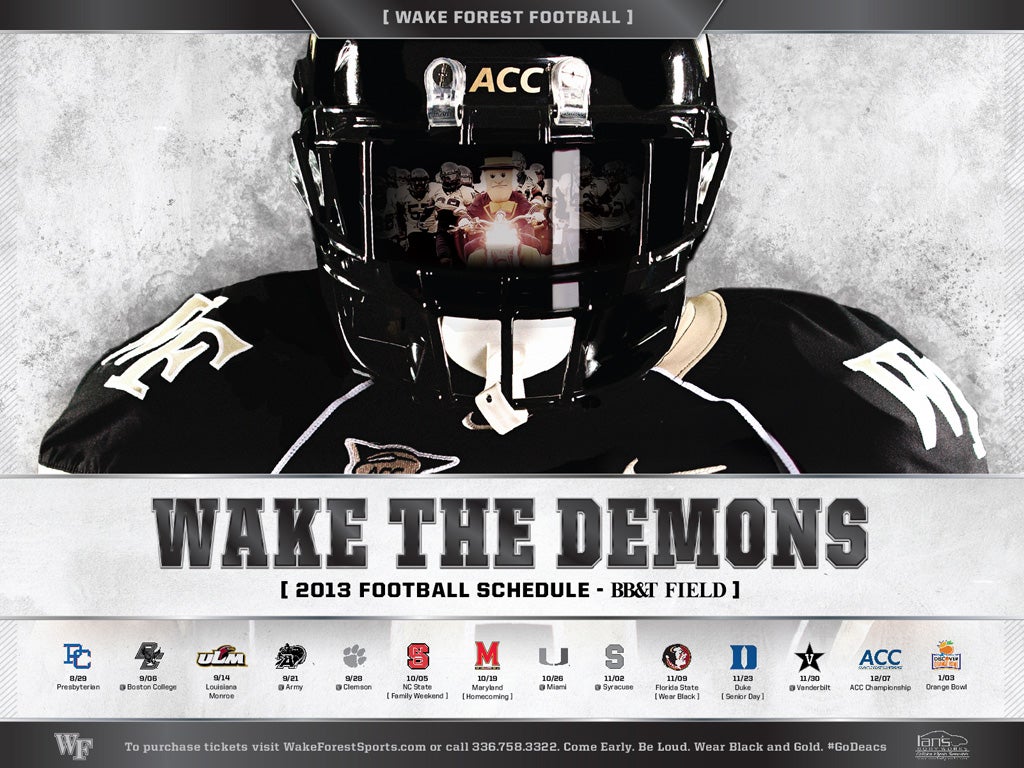 Bleacher Report (https://bleacherreport.com) is a one of the most popular sports news websites with a growing monthly audience of more than 14 million unique users.
Every year, the site collects schedule posters from football programs around the country and ranks them based on the five categories of School Spirit, Schedule Clarity, Photo Quality, Creativity and Awesomeness.
Lead Wildfire designer Kaylan Hufham and team received a 9/10 in 4 out of 5 categories, with specific applause around the use of a reflection in a player's visor to feature the team and mascot. "We set out to bring the Demon Deacons to life as a team, not just one player, in a creative and impactful way," explains Hufham.
Under the 'Awesomeness' category, Bleacher Report featured columnist Lafe Peavler states, "Whether or not you're a Wake Forest fan, you can't go wrong with this poster hanging on your wall."
This is the first piece in a yearlong, multi-sport campaign by Wildfire, agency partner to Wake Forest Athletics, that will highlight the WFU student-athlete for not only their competition in game play, but also their good nature and generosity. "It's this dichotomous personality that makes Wake Forest student-athletes truly unique," says Chace Hoglund, Strategic Planner at Wildfire, adding, "Wake Forest athletes are demons on the field, and deacons off it."
Hoglund oversaw the project alongside Wake Forest Athletics Assistant Athletic Director for Marketing and Special Projects, Mike Odom and Wake Forest Athletics Director of Marketing, Bradley Keen.