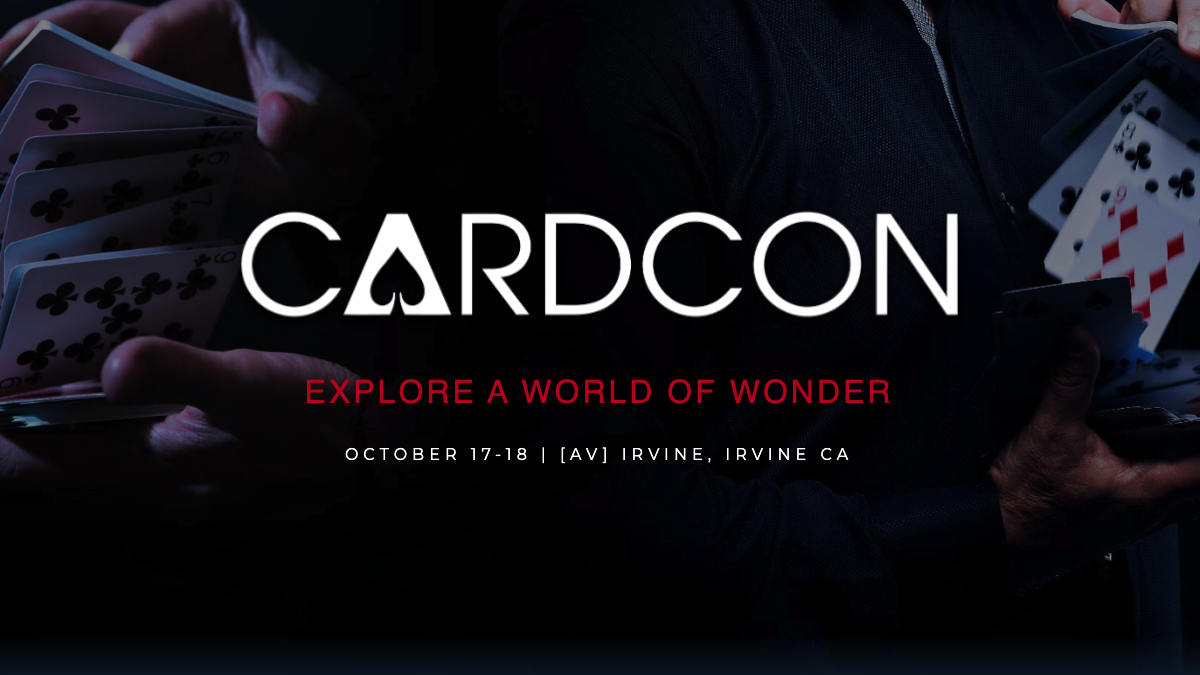 We always enjoy the opportunity to solve marketing challenges cross-discipline. As part of an ambitious new effort in support of the United States Playing Card Company (USPCC), the makers of Bicycle Cards, we took on the challenge of creating a first-ever immersive brand experience. The project involved tapping into the expertise of our strategy, creative, interactive, event and account management teams.
The Ember: a New Kind of Playing Card Experience
CardCon began with a desire to create a space dedicated to engaging and creating a community of playing card enthusiasts. So much more than just a marketing experience, this project was an opportunity to celebrate through wonder-filled possibilities and experiences. Over many months of work – and fun – the first ever CardCon was born. Our team understood how unique this project was, and the creative freedom and challenges that came along with the endeavor! Planning, executing, and designing this one-of-a-kind event was a great opportunity. We were ready to put all our cards on the table.
Gathering Kindling: Embracing the Playing Card Community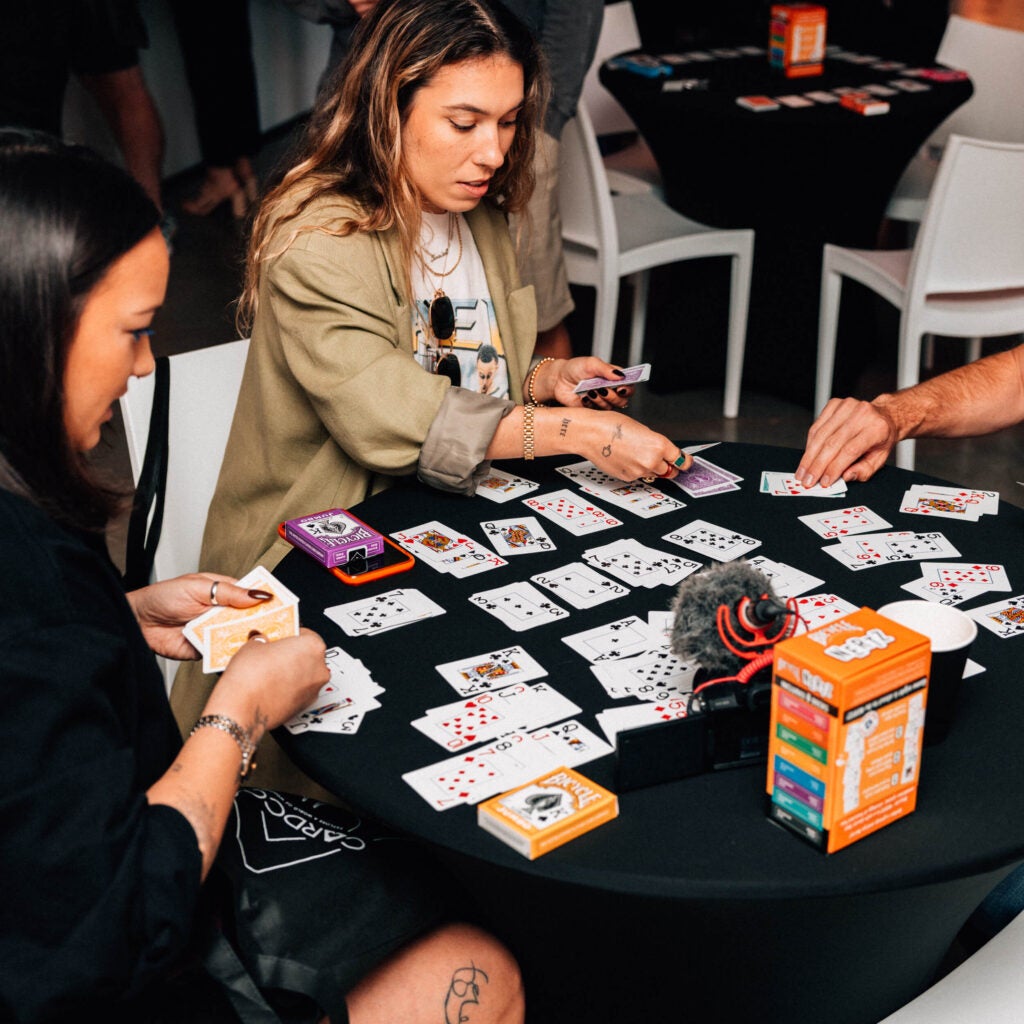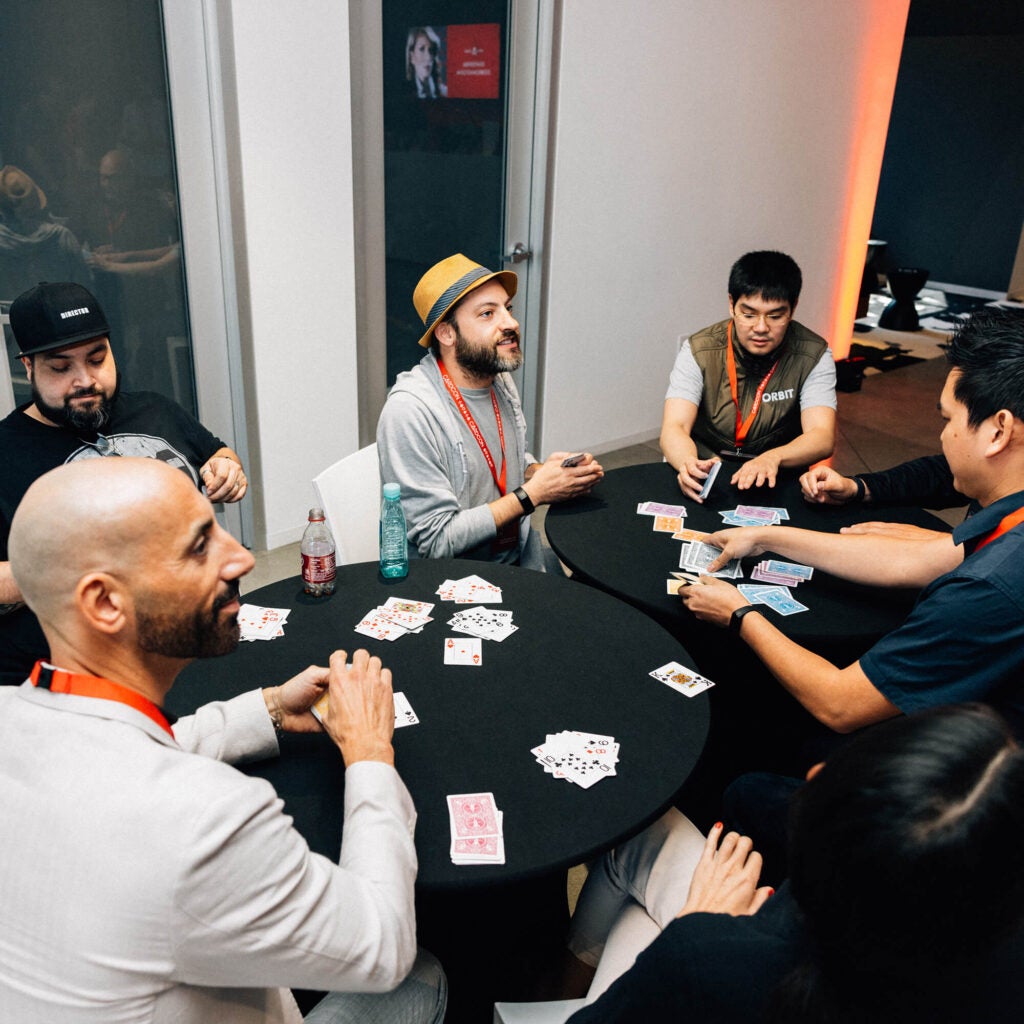 To kick off the project, the Wildfire team immersed ourselves in the playing card landscape. Our team first sought to understand the audience by becoming consumers of card-centric content. We spent time reading articles and watching videos, tutorials, and streaming channels. We learned about playing card games, making cards, performing magic and cardistry, and even slicing through vegetables with playing card projectiles! 
Even more, we learned about the diverse group of people who love all aspects of playing cards. There is no way to accurately describe the energy within the playing card community unless you've witnessed it yourself.
Adding Fuel: Ideas that Spark Activation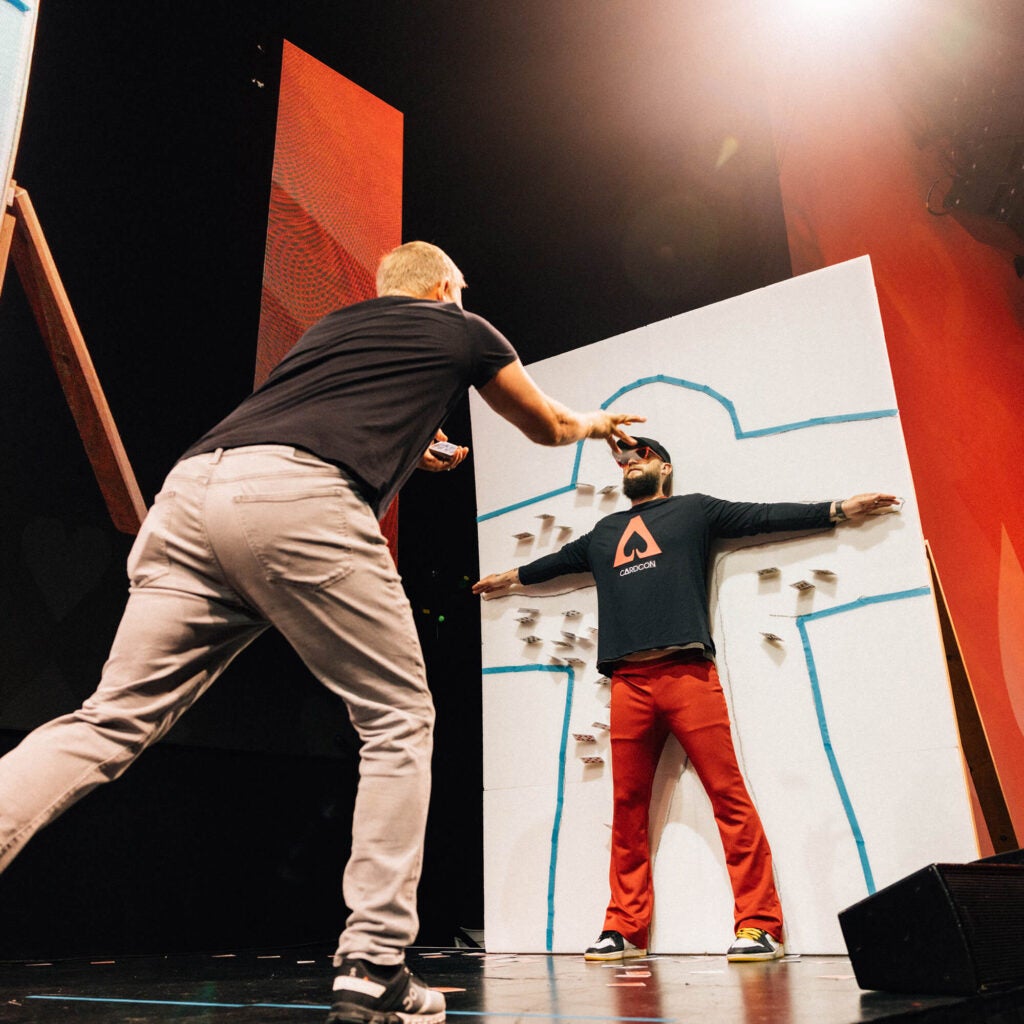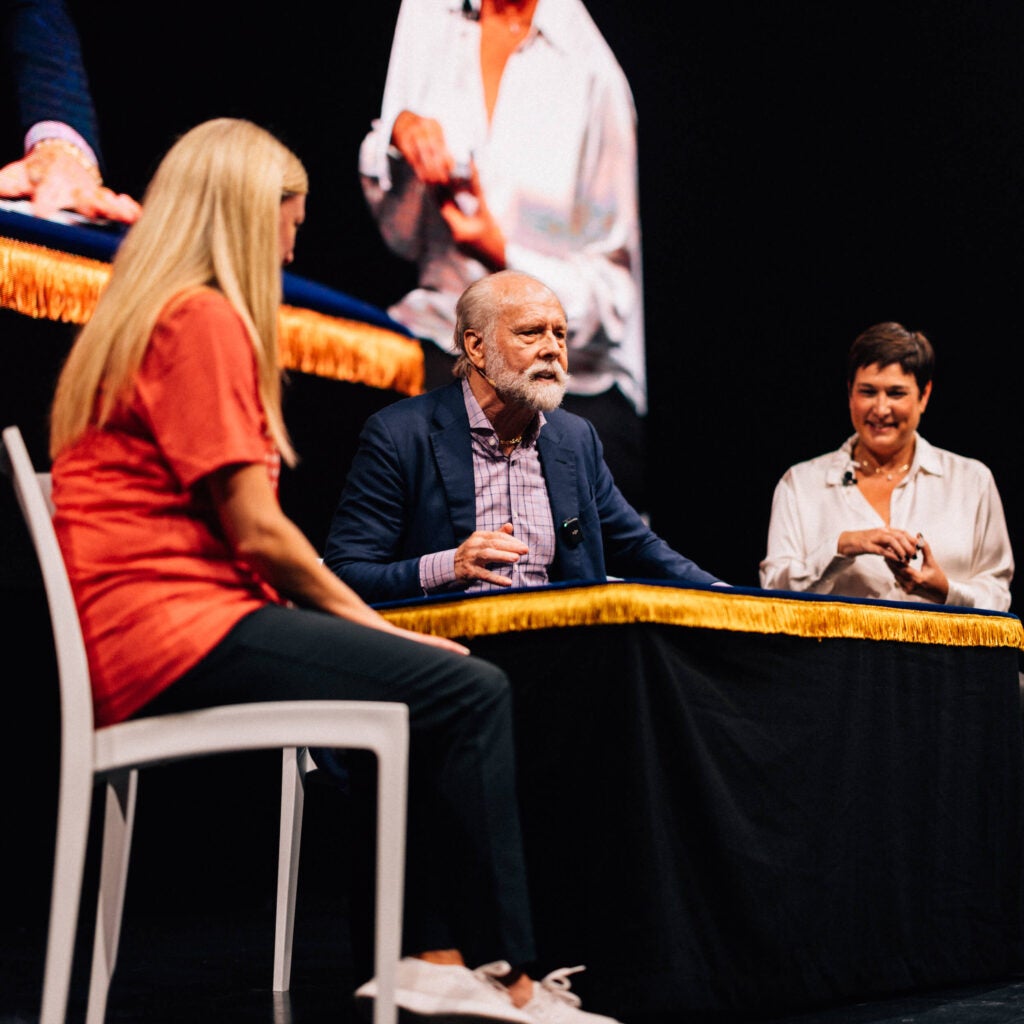 Armed with knowledge and inspiration, we set out to support USPCC in creating a new global event unlike any other. One that would showcase the variety, depth, and passion of performers, enthusiasts, and community members to showcase this vibrant industry full of awe-inspiring art and performances that spark a sense of wonder. 
Explore a World of Wonder. This phrase, inspired by our own discovery journey, would lead our minds throughout the development of the entire event. The idea moved us from concept development, to project management, entertainment bookings, web design, environmental & graphic design, marketing, and activation. 
The inaugural event represented a first impression we had to get right. Through rounds of concepts for event names, creative assets, venues, and event activations, the vision for the CardCon emerged. 
"It was truly a pleasure to work on the strategic underpinnings of this event. Figuring out how each piece of the event would flow and function together to stimulate the interest of any card enthusiast, regardless of how involved they were in the world of cards, was a challenge that we had to solve with a single event. And it was a challenge we successfully tackled from more than 2,400 miles away!"

Daniel Oberti, Junior Account Planner
Igniting the Fire: Turning Ideas into Action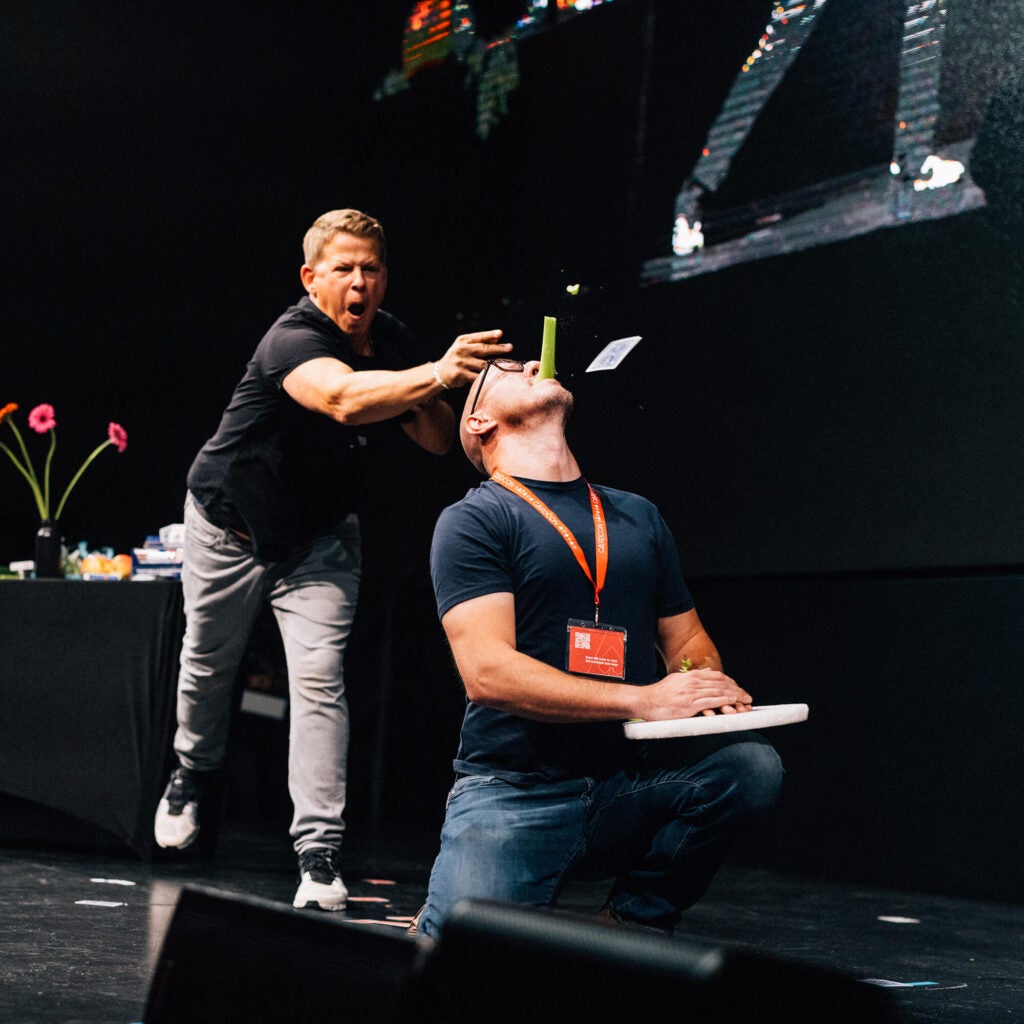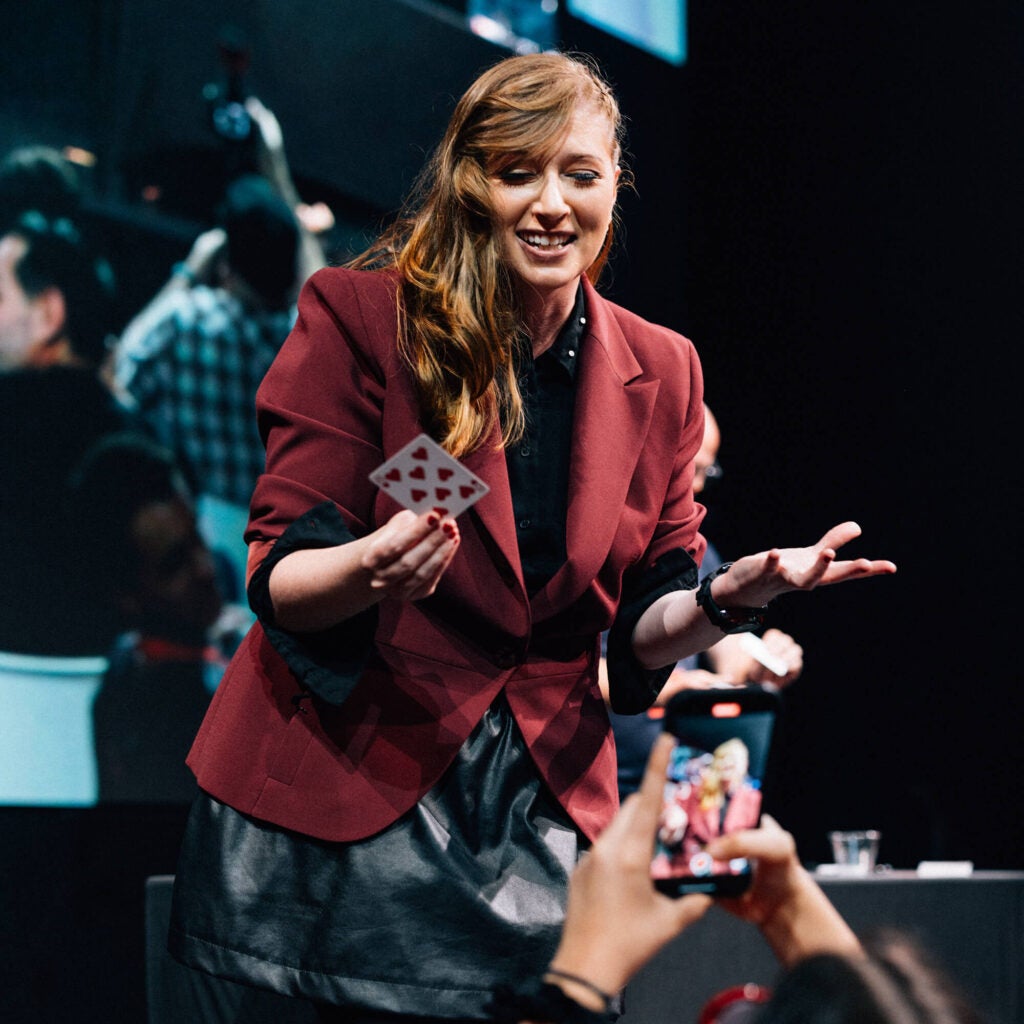 We discovered four unique audience segments we determined to appeal to and engage: Cardists, Magicians, Collectors & Gadget Lovers, and the ever-present Socializers, general enthusiasts and card game aficionados. With these audiences in mind we curated tailored event activations to draw in each type of attendee. 
Once the event activations were chosen, built out, and ready for execution our team worked to coordinate with stakeholders and partners to begin the logistical execution for more than 200 attendees. Our lead event manager worked in conjunction with clients, vendors, talent, and account team to make sure every part of the plan came together.
While our project management team worked on the activations, Wildfire's creative teams developed the branding, digital, and environmental design used to promote, decorate, and enhance the event experience.
"We wanted to provide a clear, upscale introduction to the identity of Cardcon with a clean, modular kit-of-parts design that could be used in a variety of formats, with stark color contrasts focusing on a prominent red and secondary neutral black and white palette. The card suit pattern featured prominently provides continuity with the Bicycle brand and was used as a through-point across all graphics, tying everything together with the universal visual language of cards and cardistry."

Riley Hill, Senior Graphic Designer
Wildfire's media team crafted organic social media and paid media campaigns to introduce the world to CardCon and attract attendees. Organic and paid media efforts reached several million accounts with stellar engagement rates, bringing the event to its attendance goal. 
Fanning the Flames: On the Ground in Irvine, California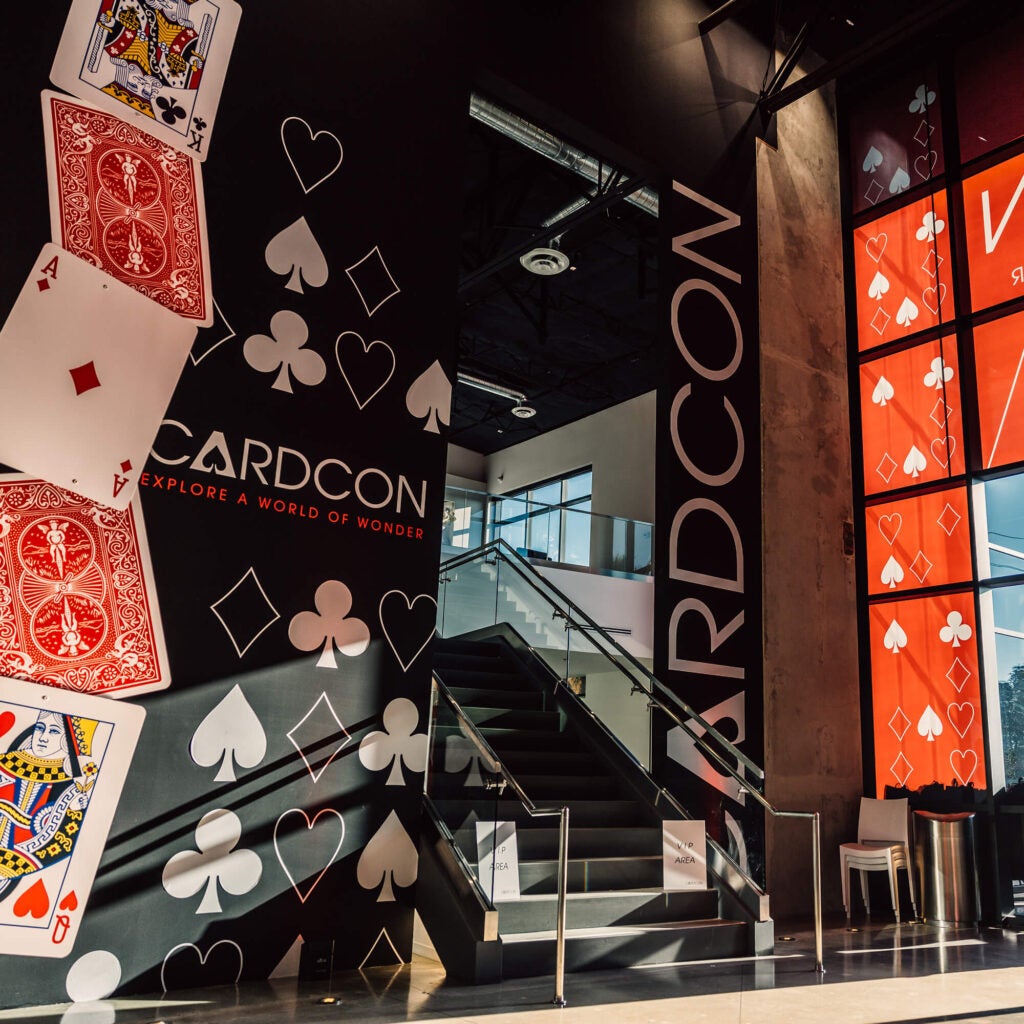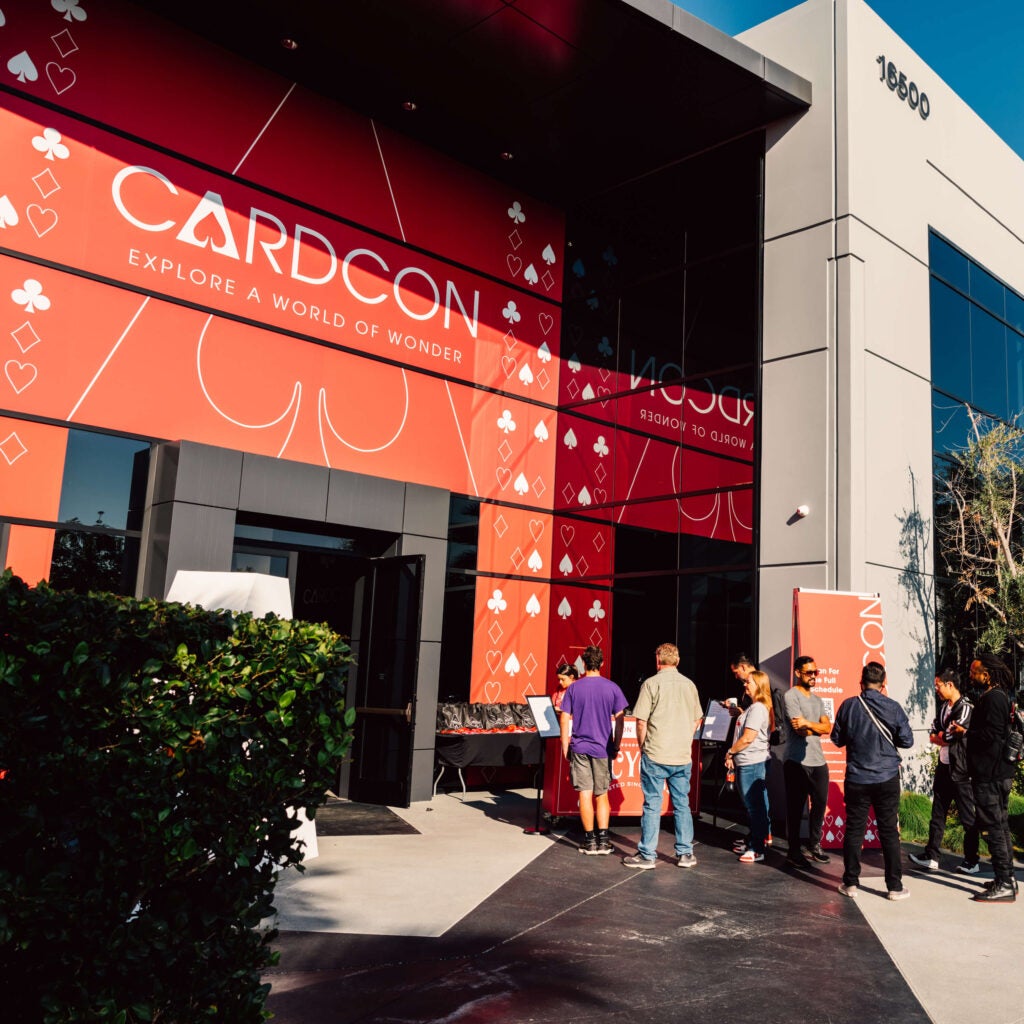 Once arriving in California, people and places we had all encountered virtually hundreds of times suddenly became a tangible reality. It was time to play our hand.
Our on-site team got to work making sure every detail was executed properly, with support from Wildfire's staff at home offices in Winston-Salem & Richmond. Procuring boxes of merchandise, building contraptions used to set two Guinness world records, filling gift bags, creating name tags, transporting talent, managing the layout of the venue – you name it and we did it, or made sure it was done! After one tussle with a ne'er-do-well cactus, we were on our way to execute what would become an experience to remember for our team, our clients, and most importantly the attendees.
A major goal of this event was not only to engage the industry's core enthusiasts and drive brand awareness, but also to capture content in hopes of expanding the event in 2023. In the future, we can use this content to scale the event globally and leverage the Cartamundi brand portfolio. Wildfire's media team led the content strategy, planning and capturing thousands of photographs and hours of video footage.
We asked the simple question, "What has been your favorite thing about CardCon?" We received as many different answers as people who responded. Everyone had a unique special moment they experienced in our World of Wonder. We had done our jobs to create a truly unique event appealing to all audiences with passion for playing cards.