We know that sometimes you need a little spark to spread your mission. And we can do a lot in a day. From marketing and communication strategies to eye-catching deliverables, we are excited to support an important cause within our community.
In order to give back to the communities that have given us so much, we're throwing a marketing marathon designed to deliver our professional marketing and creative services to a nonprofit organization in Winston-Salem or Richmond, absolutely cost-free. Applications open summer of 2022.
Pyropalooza 2021
In 2021, we stayed safe and took Pyropalooza virtual—but delivered the same firepower for A Bed and A Book!
THE CHALLENGE
After only a year of being a nonprofit, A Bed and A Book needed to get the word out about their mission to build their donor and volunteer base in order to provide more beds to kids in the Forsyth County area.
THE SOLUTION
Solidify the message of A Bed and A Book and give them assets to help drive engagement both online and in person. With a new website and marketing materials they can now reach more individuals to help make sure every kid has a place to dream.
WHAT WE DID
Web Audit
Brand Audit
Brand Assets
Brand Positioning
Donor Retention/Acquisition Plan
Donor Engagement Reccomendations
Leave-Behind
Email Template
Website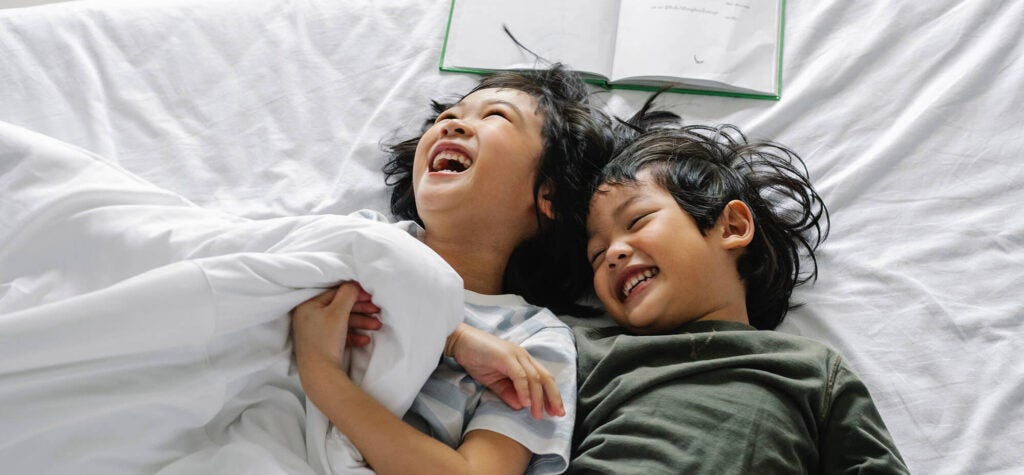 We're delighted to have had the opportunity to meet and work with this stellar team. All the deliverables have helped us grow and share our mission. The website, just WOW! Every one of you are exceptional. Looking at the collateral we have shows how you understand our mission. Thanks to each of you A Bed and A Book will be able to provide more children with a place to dream! By the way, thank you for that slogan!
I love all of your energy, and I still cannot believe you were able to deliver so much fire power in just one day! You put your heart and souls into the work you provided. You continue to bless us and it truly is like we are now part of the Wildfire family. I could continue to write and sing the praises of each one of you and how grateful we are on behalf of the children we serve. Many beautiful and brilliant children will be blessed with their own beds and books because of the spark you have given to our organization.
A BED AND A BOOK
---
The experience was incredible. We gave Wildfire a bunch of jumbled, disjointed information and they turned it into incredible copy on fundraising and marketing collateral. The staff made us feel completely at ease and asked incisive questions so that we were able to share the right information with the Wildfire staff.
During the presentation, we appreciated all of the practical information that was shared with us (like the review of our website and how to make it better). We were touched (yes, I had tears in my eyes) when we saw the fundraising brochure and the other pieces, phrases and hashtags the staff designed. You really got us, and you gave us ways to share the heart of our agency with everyone. You condensed the wonderful things about our staff and agency into short phrases and paragraphs so we can easily communicate them to donors and to the public.
We will be using material Wildfire created in our 40 for Forty Campaign so you will definitely be helping us to grow our business AND you absolutely lowered my blood pressure.
The whole experience was incredible, but we really loved getting to talk to the entire Wildfire staff and have them ask us questions. It was clear the staff had already done research on our agency and had a deep understanding of our what and our why.
To summarize: can we be your agency again next year?
THE PARENTING PATH
---
LEAD Girls of NC was selected as Wildfire's first Pyropalooza. The experience was unbelievable and honestly I feel like I don't have the words that could accurately express our gratitude. The staff at Wildfire were amazing, so attentive, creative, caring, loving and just unbelievably smart. A true team of excellence. Throughout the whole process they communicated with me and oh boy presentation day sent me out the door with tissue and puffy eyes. The deliverables were amazing, it's like the staff had worked with our organization for years. If you are looking to work with a company that cares about your mission and marketing, this is the place.
There is no doubt in my mind when the budget becomes available where we will be. Mr. Brad, thanks for your vision to start Wildfire. To the wildfire staff: I will forever love each and every one of you #becauseeverygirlcan
LEAD GIRLS OF NC

Could Pyropalooza benefit your organization?
Applications are now closed.
Stay tuned for updates and announcements!
LEARN MORE ABOUT PYROPALOOZA
What will my organization get after Pyropalooza?

The gist of it is, we want to help you help others. That's why we are offering our marketing and creative services completely free of cost. We'll close our office for the day in order to give your organization our full attention. And afterwards, Wildfire will deliver the final assets to your organization for you to use as you see fit.

We'll work with you to decide what marketing and creative services best address your needs and spread your mission. Here are some examples based on the service package you select.

BRAND IDENTITY

Brand positioning (i.e. brand pyramid, mission, vision, values crystallization)

Business card and letterhead

Brand guidelines (i.e logo usage, typography, color palette, supporting graphic elements)

Brand architecture

Refined or redesigned logo

Social Media Marketing Plan

Brand positioning (i.e. brand pyramid, mission, vision, values crystallization)

Creative for three to five organic posts

Communications planning brief

Creative for three to five paid posts

Promotional Materials

Email marketing template in MailChimp or ConstantContact

SWAG item

Single page collateral piece (i.e. brochure, one-sheeter)

Single page direct mail (i.e. postcard)

In addition to the services listed above, if you have an existing site, we can perform a website audit report with recommendations for SEO, ADA and User Experience upgrades.